- 2835 SMD LED

-
2835IRC-70L / 14I100
700nm LED är en infraröd LED som är förpackad med 2835 SMD LED-fodral (en av ytmonteringsenheten). Denna IR SMD LED har en bra värmeavledning prestanda. Som vi vet är infraröd typ av osynlig strålningsenergi, elektromagnetisk strålning med längre våglängder än synligt ljus. I LED-marknaden kallar vi den som nära infraröd LED när denna infraröd LED har en våglängd på intervallet 700nm till 1000nm. Shenzhen Best LED Opto-Electronic Co, Ltd erbjuder infraröd LED med 700nm LED, 730nm LED, 780nm LED, 910nm LED, 830nm LED, 850nm LED, 900nm LED, 940nm LED ect infraröd LED. Alla dessa infraröda emitterar kan förpackas med olika lampformar eller ytmonteringsenheter (SMD LED-typ) för ditt val. Såsom 3528 SMD LED-fodral, 5730 SMD LED-fodral, 3014 SMD LED-fodral, 5mm genomgående hål LED-fodral eller 3mm genomgående hål LED-fodral ect. Denna 2835FIRC-70L / 14I100 packades av 2835 SMD LED som har en värmestänk i botten av SMD LED-fodralet. Med denna fördel kan den här infraröda lysdioden skicka extra värme när den fungerar. Om du behöver en IR-lampa har perfekt prestanda på hög temperatur, så kommer denna SMD LED inte att göra dig besviken. Behöver du lite infraröd LED för ditt projekt? Kontakta oss för mer detaljer!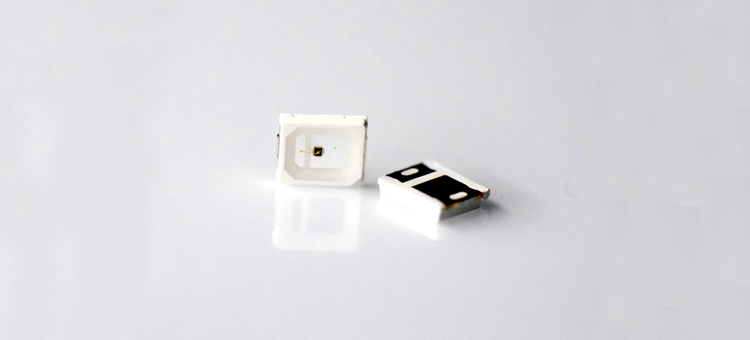 - Size: 3.5*2.8*0.8mm

- Chip Number: 1 chip

- Wavelength: 700nm IR LED

- Type: Surface mount device

- Chip brand: Customized LED

- Polarity Mark Anode


- Different color are available

- Different wavelength are available

- Warranty: 5 Years


- RoHS, REACH, EN62471


- Uniform light output

- Long life-solid state reliability

- Low Power consumption


-Anti UV epoxy resin package


-High temperature resistance
- Dimensionsparametrar -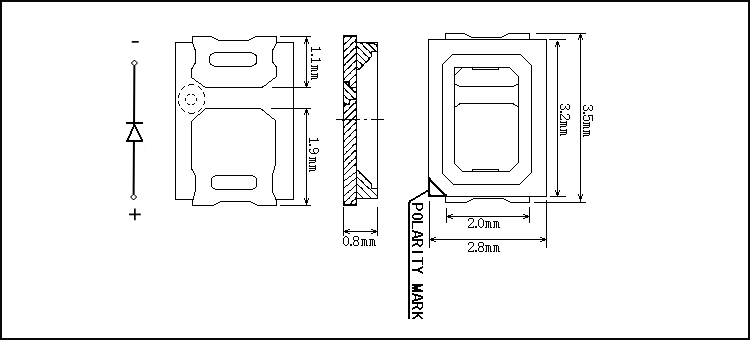 Dessa SMD LED-fodral är också tillgängliga för IR-LED, UV-LED, Blå SMD LED, Röd SMD LED, Amber LED ect.
- Utsläppande färg -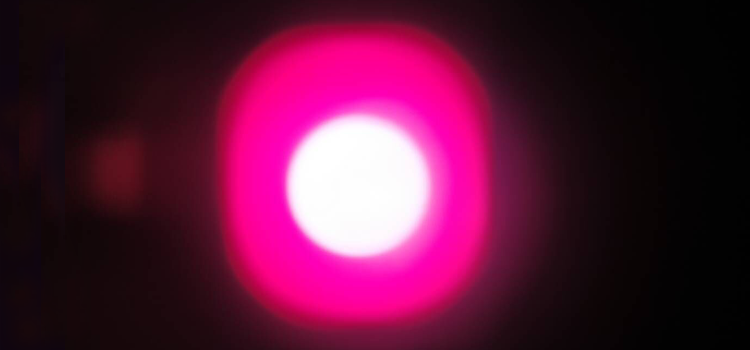 * Färgerna i fotot togs av kameran, var god ta den faktiska emitterande färgen som standard.
- Elektriska parametrar -
Absoluta maximala betyg vid Ta = 25 ℃
Parameter

Symbol

Rating

Power Dissipation

Pd

270mW

Pulse Forward Current

IFP

350mA

Forward Current

IF

100mA

Reverse Voltage

VR

5V

Junction Temperature

Tj

115°C

Operating Tempertature

Topr

-40 - +80°C

Storage Tempertature

Tstg

-40 - +100°C

Soldering Temperature

Tsol

260°C

Electro-Static-Discharge(HBM)

ESD

2000v

Warranty

Time

5Years

Antistatic bag

Piece

1000Back

*Pulse Forward Current Condition:Duty 1% and Pulse Width=10us.

*Soldering Condition:Soldering condition must be completed with 3 seconds at 260°C

Optiska och elektriska egenskaper ( T c = 25 ℃ )
Parameter

Symbol

Min

Typ

Max

Unit

Test Condition

Forward Voltage

VF

2.2

2.7

V

IF=100mA

Pulse Forward Voltage

VF

3.6

V

IFP=350mA

Radiant Intensity

IE

50

70

mw/sr

IF=100mA

Peak Wavelength

λP

700

705

710

nm

IF=100mA

Total Radiated Power

PO

5.7

mw

IF=100mA

Half Width

Dl

50

nm

IF=100mA

Viewing Half Angle

2q1/2

±60

deg

IF=250mA

Reverse Current

IR

5

uA

VR=5V

Rise Time

Tr

25

ns

IF=100mA

Fall Time

Tf

13

ns

IF=100mA

*Luminous Intensity is measured by ZWL600.

*q1/2 is the off-axis angle at which the luminous intensity is half the axial luminous intensity.

*lD is derived from the CIE chromaticity diagram and represents the single wavelength which defines the color of the device.
- Golden Wire-anslutning -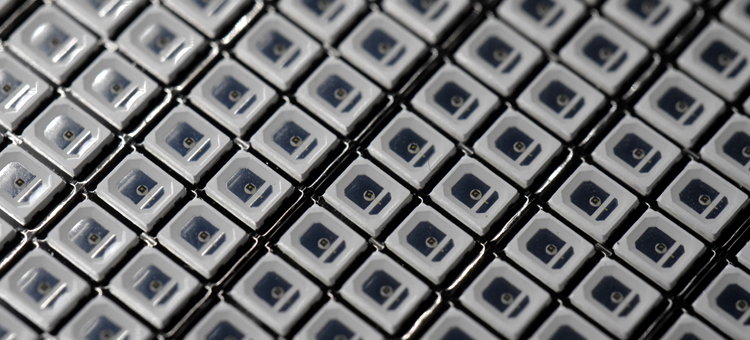 * För att behålla alla LED: s långa livslängd, använder BestLED fabriken hög ren guldtråd för insidan av kretsanslutningen
- IR LED-toppvåglängd -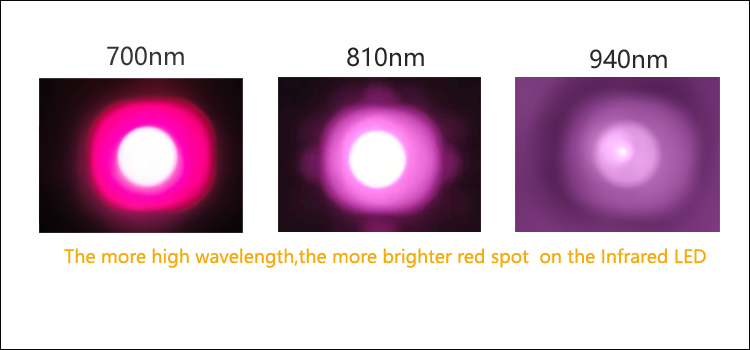 * Vi packar det med vakuumpackning efter att du har band det som en hjuls
- Ansökan -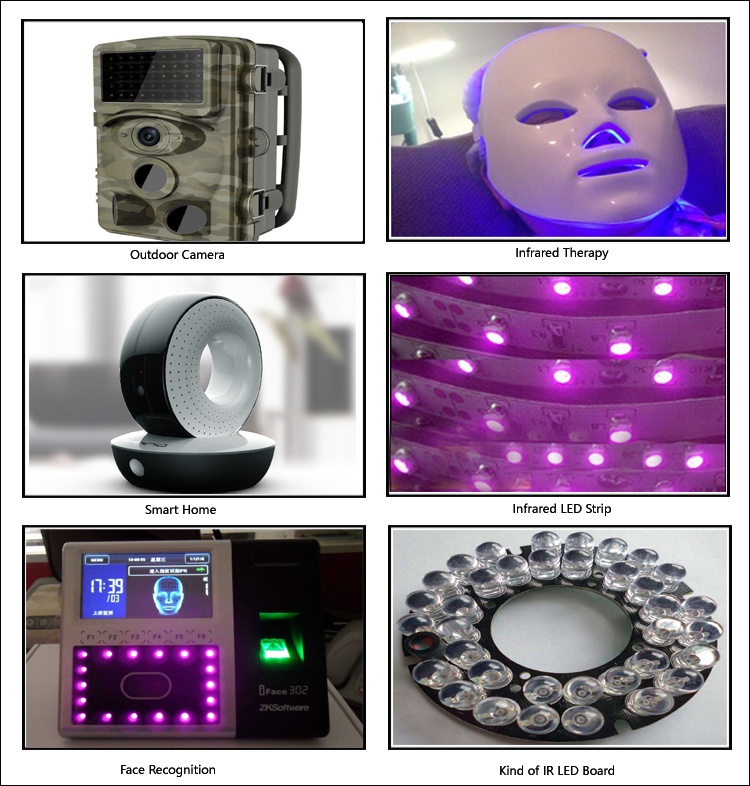 - Relaterad IR LED -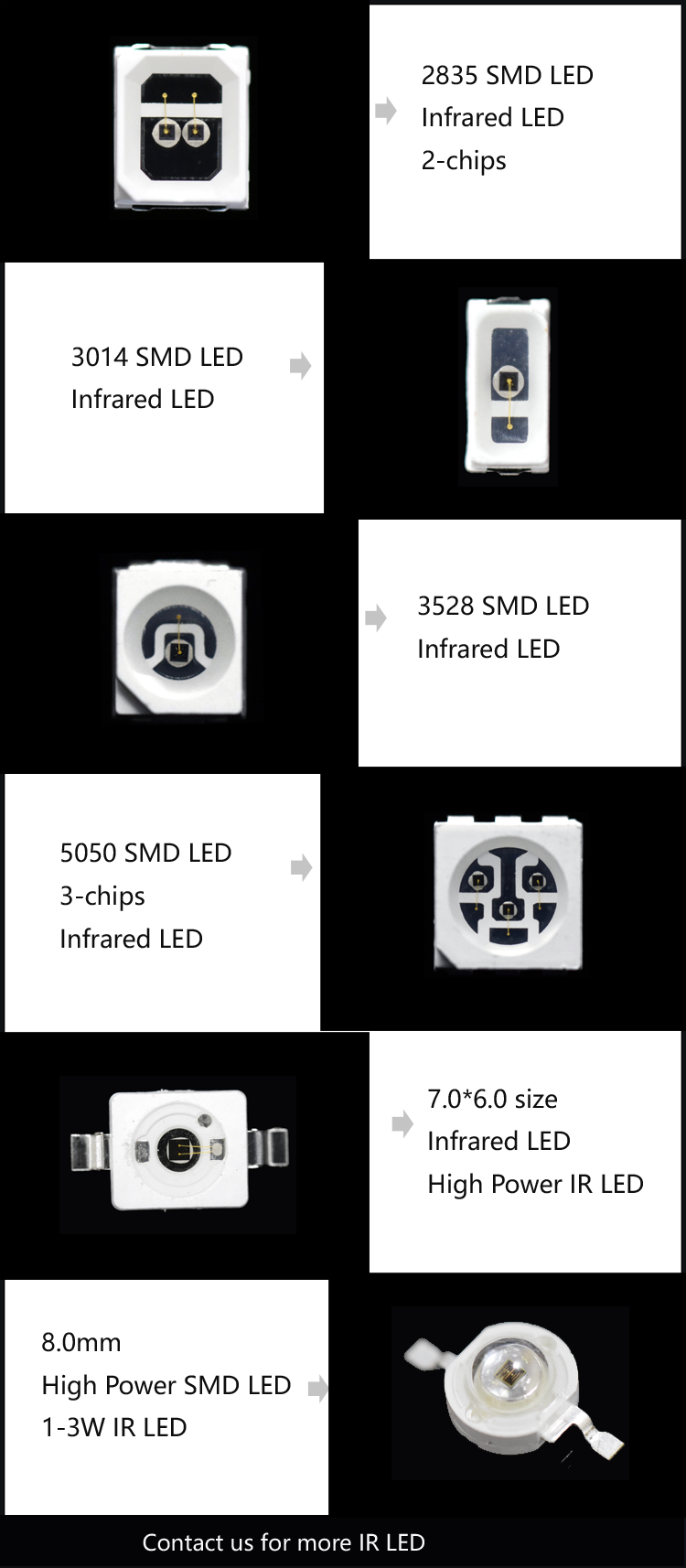 - Produktion -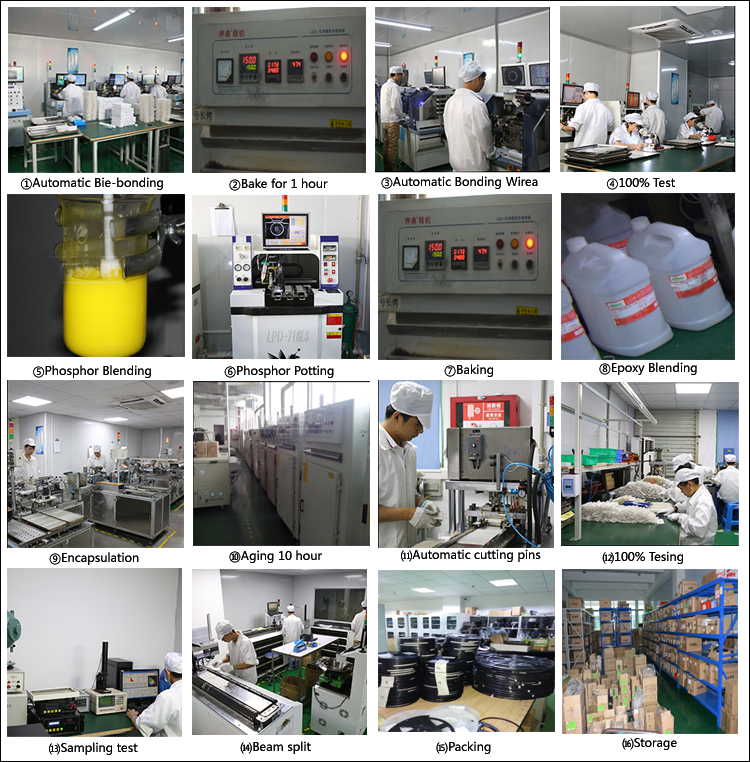 - Använda sig av -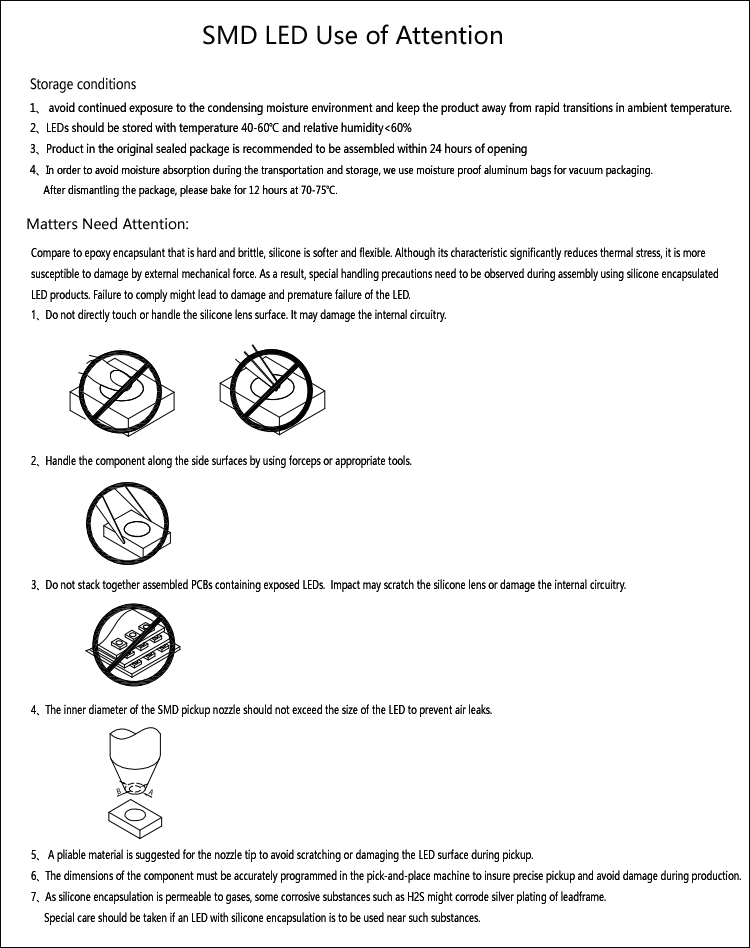 Produktkategorier : SMD LED > 2835 SMD LED