- 365nm LED -
2835FVC-365LI150-90A
Dessa 365nm LED-lampor är perfekta för UV LED-remsor, gel nagellack maskin, insektsfångare (som mygg ect.). UV-LED kan packas med olika SMD LED-lampor eller genomgående hål-LED-typ. Som vi vet är SMD LED alla med 120 visningsvinkel. LED- lampan med genomgående hål har en smal vinkel, så att den kommer att ha mer c- koncentrerad ljus och längre belysningsresultat. Men för någon applikation behöver människor ha en smalare vinkel med SMD LED. Så för denna 0,5W UV-LED, tillverkar vi en extra lins på toppen av SMD LED så att den kan ha en smalare synvinkel och göra längre belysningsavstånd som genomgående hållampa. Behöver du lite UV-LED med 0,5 W hög effekt för din belysning eller ett annat applikationsprojekt? Kontakta oss för mer information om det.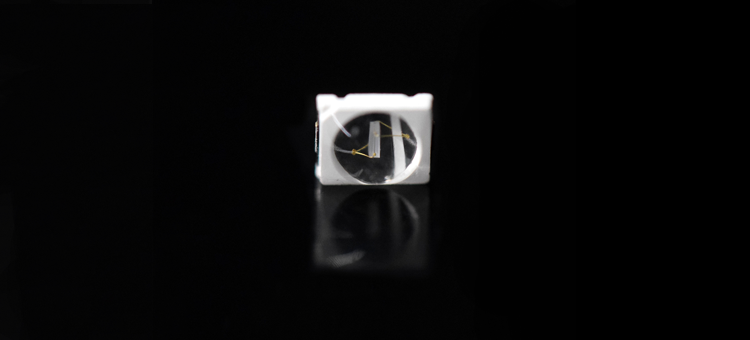 - Size: 2.8*3.5*0.8mm

- Chip Number: 365-375nm

- Color: UV LED

- Lens type: Water clear

- Different color are available

- Warranty: 5 Years

- Different wavelength are available

- RoHS, REACH, EN62471

- Uniform light output

- Long life-solid state reliability
- Low Power consumption

- Anti UV epoxy resin package

-High temperature resistance
- Dimensionsparametrar -

. Alla mått är i millimeter; 2. Toleransen är ± 0,10 mm om inget annat anges.
* Detta fodral är också tillgängligt för UV-LED, Gul LED, Vit LED, Blå genomgående hål LED, Röd genomhål LED, IR LED ect. *
- Utsläppande färg -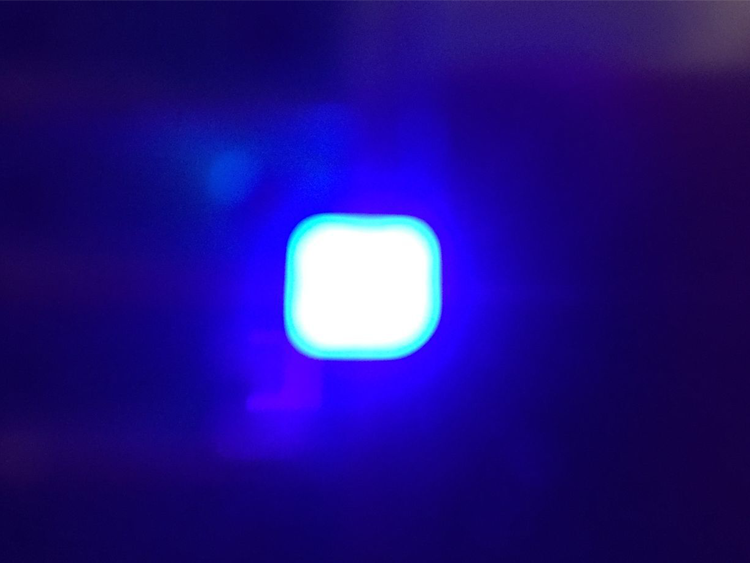 * Färgerna i fotot togs av kameran, var god ta den verkliga emitterande färgen som standard.

- Elektriska parametrar -

Parameter

Symbol

Rating

Power Dissipation

Pd

200mw

Pulse Forward Current

IFP

1000mA

Forward Current

IF

100mA

Reverse Voltage

VR

5V

Junction Temperature

Tj

115°C

Operating Tempertature

Topr

-40 - +80°C

Storage Tempertature

Tstg

-40 - +100°C

Soldering Temperature

Tsol

260°C

Electro-Static-Discharge(HBM)

ESD

3000v

Warranty

Time

5Years

Antistatic bag

Piece

1000Back

*Pulse Forward Current Condition:Duty 1% and Pulse Width=10us.

*Soldering Condition:Soldering condition must be completed with 3 seconds at 260°C
Parameter

Symbol

Min

Typ

Max

Unit

Test Condition

Forward Voltage

VF

3.2

3.4

4.0

V

IF=150mA

Luminous Flux

Φ

5

lm

IF=150mA

Luminous Power

PO

200

400

mw

IF=150mA

Peak Wavelength

λP

365

370

375

nm

IF=150mA

Half Width

Dl

25

nm

IF=150mA

Viewing Half Angle

2q1/2

±45

deg

IF=150mA

Reverse Current

IR

5

uA

VR=5V

*Luminous Intensity is measured by ZWL600.

*2q1/2 is the off-axis angle at which the luminous intensity is half the axial luminous intensity.

*lD is derived from the CIE chromaticity diagram and represents the single wavelength which defines the color of the device.
- Golden Wire-anslutning -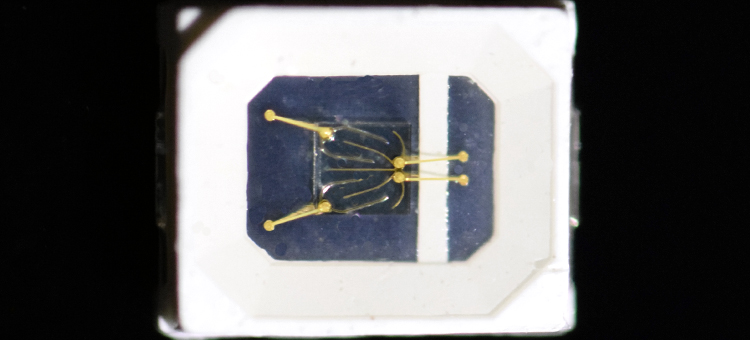 - Förpackning -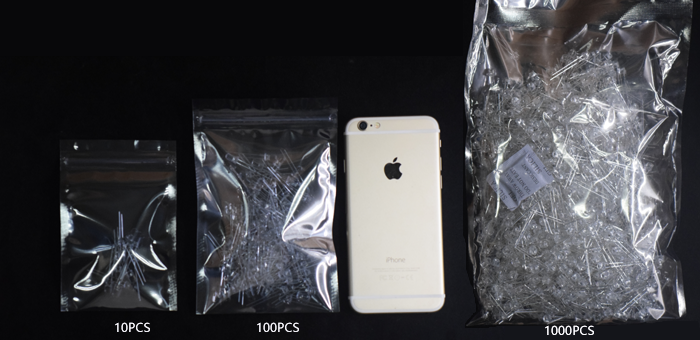 - Användning av UV-LED -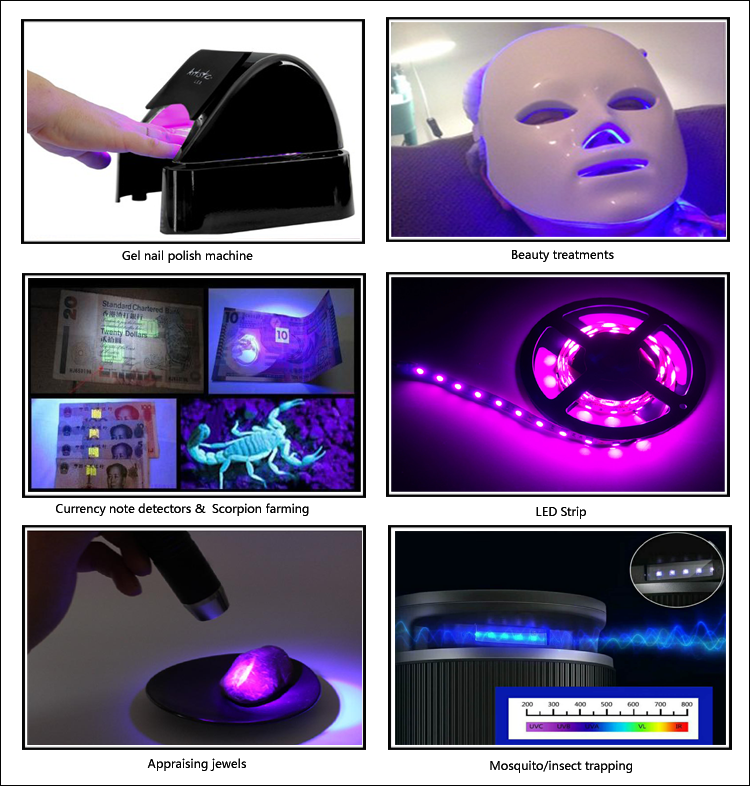 - Relaterad UV-LED -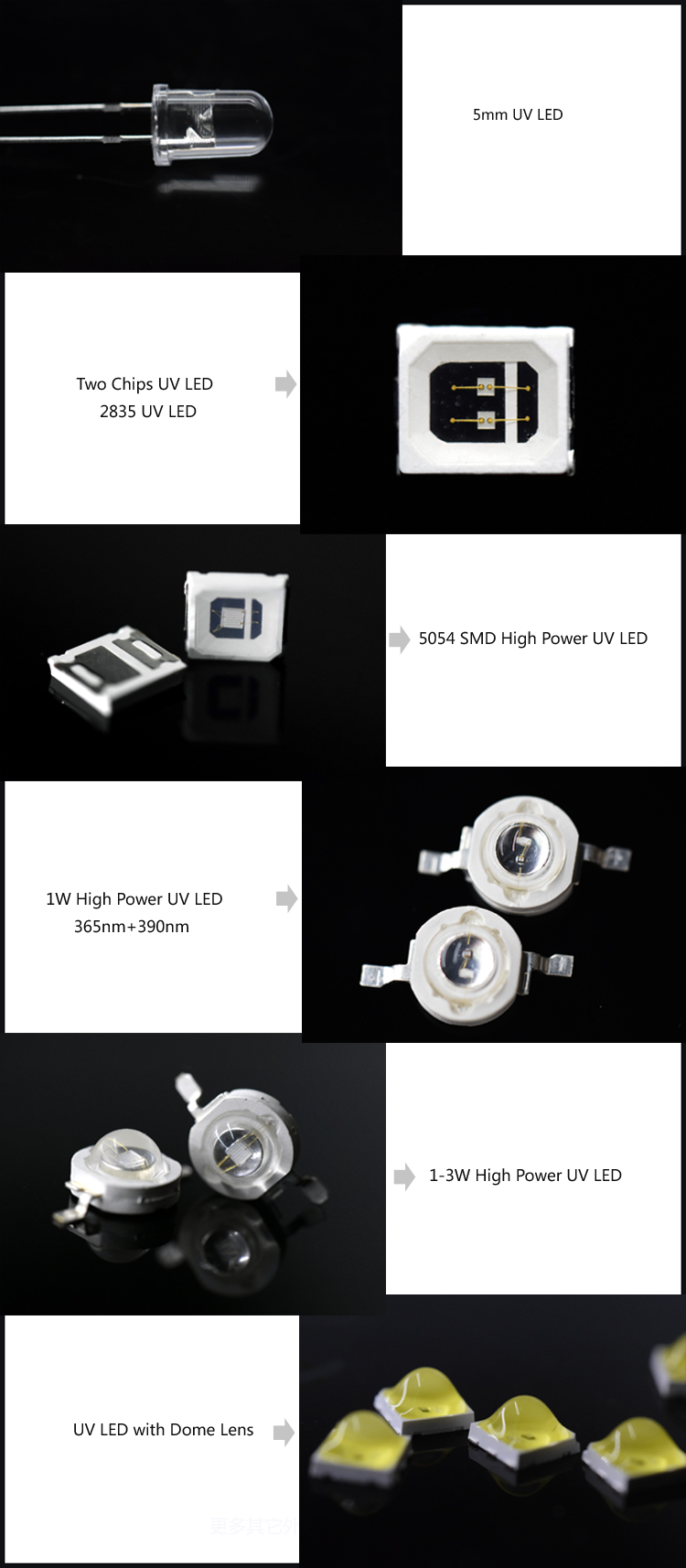 - Produktion -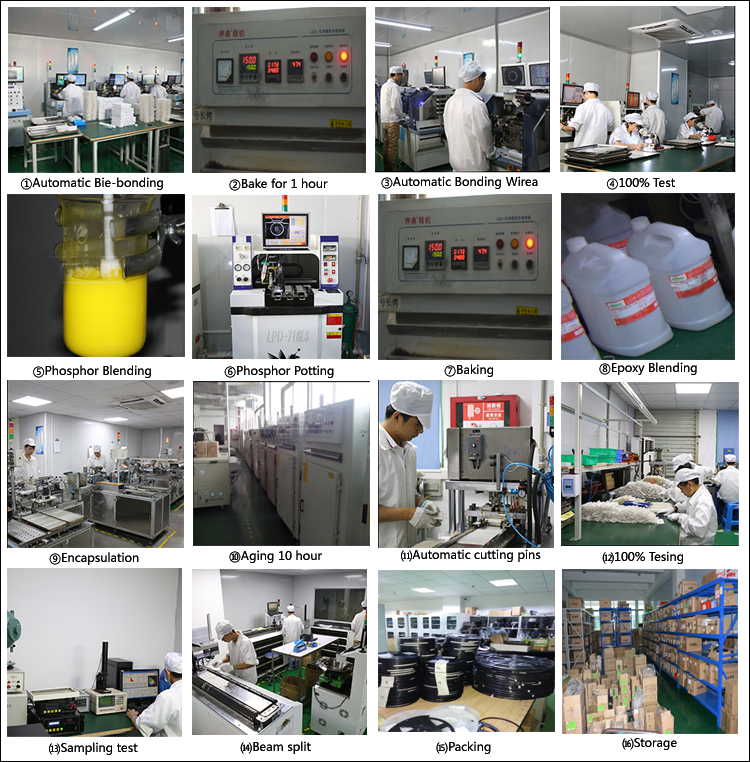 - 365nm Användning -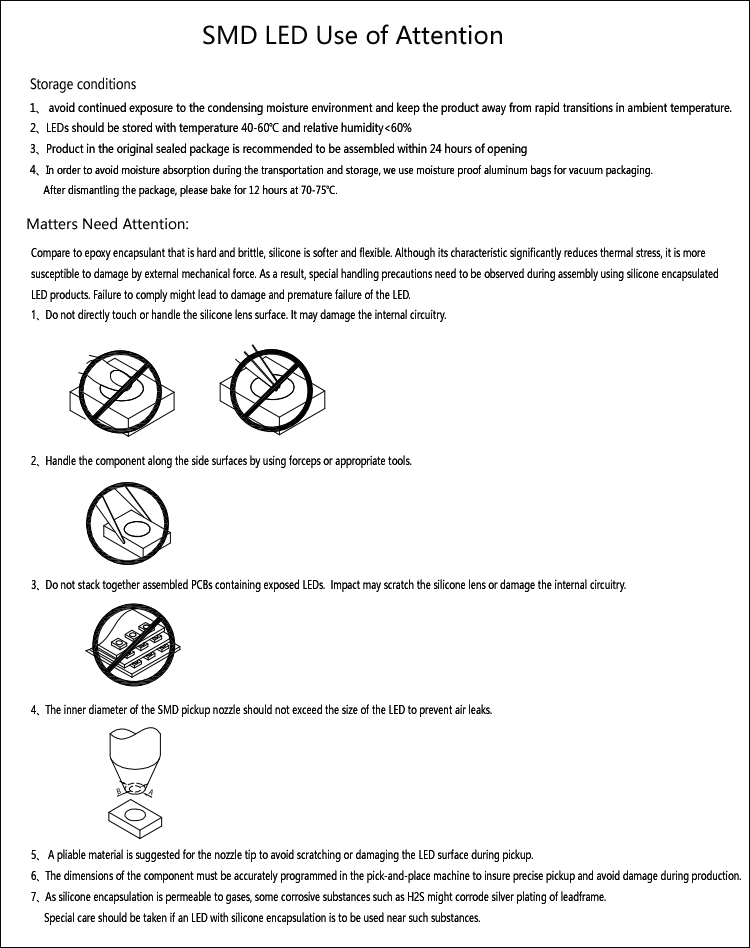 Produktkategorier : Fullvåglängdslampa > 365nm LED