- 810nm LED -
132IRC-81L14I150
Fyrkantig LED 810nm är förpackad med 355um * 355um LED-chip. Dess arbetsström är 100mA och spänningen är 2.0V. Den tillhör 0,2W-serien infraröd emitterpärlor. 134mm LED-lapppaket. 1,2 mm tjock direktröd emitter är en ultratunn LED-lysdiod. Produktbredden är 3mm och höjden 4mm. Det används i elektroniska produkter med smal utrymme. 132IRC-81L14I150 stark röd explosion infraröd. Sändaren är vågbredden i intervallet 50 mm, 810 nm, positiv och negativ 10 mm. Med ökningen av strömmen kommer värdet på våglängden att förändras, strålningsintensiteten kommer att öka i proportion, och temperaturen kommer också att öka. Vid applicering av plug-in LED-pärlor överväger vi ofta problemet med ljusförfall som orsakas av temperatur. När LED-kristallisationstemperaturen är låg 115 grader påverkas inte lysdiodens intensitet. De viktigaste faktorerna för LED-kristalltemperatur kommer från omgivningstemperatur och arbetstemperatur. Den omgivande temperaturen är tänkt att fungera i den aktuella omgivningstemperaturen, men arbetstemperaturen beror på LED: s arbetsströmvärde. Vid den praktiska tillämpningen av LED-infraröd emitterare används ofta alltför mycket för att förbättra lysdiodens intensitet och avstånd. LED-intensiteten maximeras, men den här typen av applikation är också en slags värmeskada på PN-övergången till LED-kristall. Därför är applicering av lågström än nominell ström och förstärkning av produktvärmen utformad för att förbättra LED: s livslängd. För gratisprover, vänligen kontakta kundservicepersonalen på försäljningscentret.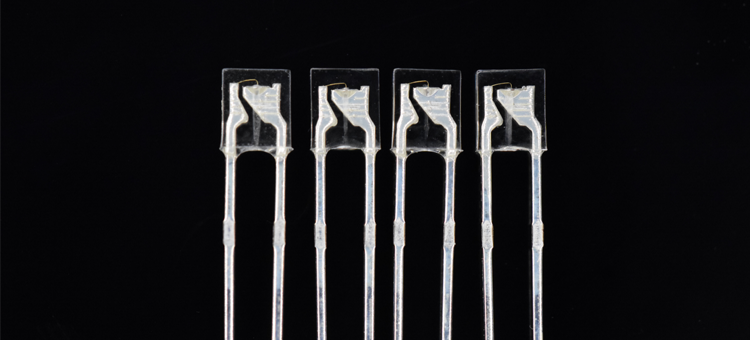 - Size: 1mm*3mm*1mm High

- Pin length:

- Color: 810nm LED

- Type: clear

- Chip brand:e Epistar




- Different color are available

- Different wavelength are available

- Warranty: 5 Years


- RoHS, REACH, EN62471


- Uniform light output

- Long life-solid state reliability

- Low Power consumption


-Anti UV epoxy resin package


-High temperature resistance
- Dimensionsparametrar -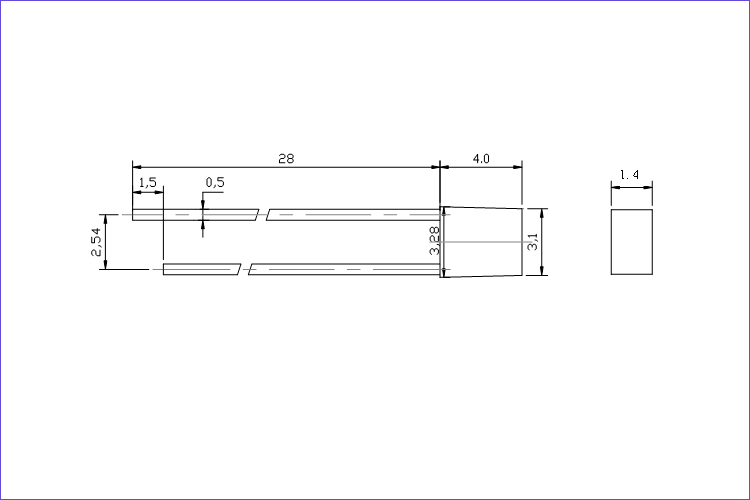 * 1. Alla dimensioner är i millimeter; 2. Toleransen är ± 0,20 mm om inte annat anges.
Dessa fodral finns också för Blue Through-hole LED, Red Through-hole LED, UV LED, IR LED, Amber LED, Yellow LED etc.

- Emitting Color -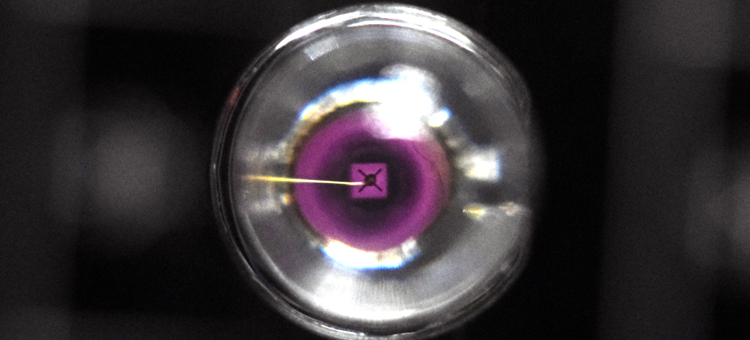 * Färgerna på fotot togs av kameran, ta faktiskt avgivande färg som standard.
- Elektriska parametrar -

Parameter

Symbol

Rating

Power Dissipation

Pd

300mw

Pulse Forward Current

IFP

500mA

Forward Current

IF

150mA

Reverse Voltage

VR

5V

Junction Temperature

Tj

115°C

Operating Tempertature

Topr

-40 - +80°C

Storage Tempertature

Tstg

-40 - +100°C

Soldering Temperature

Tsol

260°C

Electro-Static-Discharge(HBM)

ESD

3000v

Warranty

Time

5Years

Antistatic bag

Piece

1000Bag

*Pulse Forward Current Condition:Duty 1% and Pulse Width=10us.

*Soldering Condition:Soldering condition must be completed with 3 seconds at 260°C
Parameter

Symbol

Min

Typ

Max

Unit

Test Condition

Radiant Intensity

Ee

3

8

mW/sr

IF=20mA

10

20

IF=50mA

25

35

IF=100mA

Viewing Angle

2q1/2

120

deg

IF=100mA

Peak Wavelength

λp

805

810

815

nm

IF=100mA

Spectral Bandwidth

Dl

50

nm

IF=100mA

Forward Voltage

VF

1.3

1.5

1.6

V

IF=20mA

1.4

1.5

1.7

IF=50mA

1.6

1.7

1.9

IF=100mA

Reverse Current

IR

5

uA

VR=5V

*Luminous Intensity is measured by ZWL600.

*2q1/2 is the off-axis angle at which the luminous intensity is half the axial luminous intensity.

*lD is derived from the CIE chromaticity diagram and represents the single wavelength which defines the color of the device.
- Golden Wire-anslutning -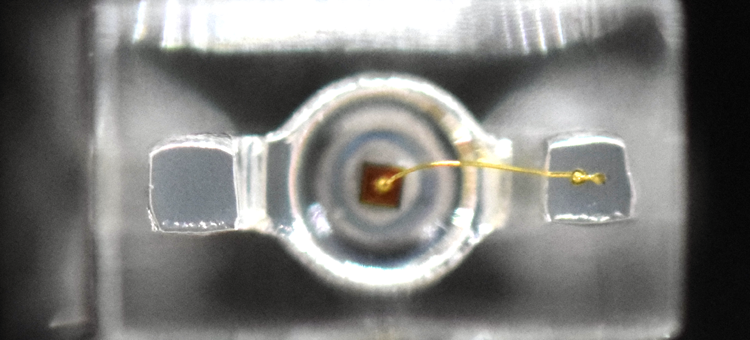 * För att behålla LED: s långa livslängd använder fabriken i BestLED hög ren guldtråd för kretsanslutning
- Förpackning -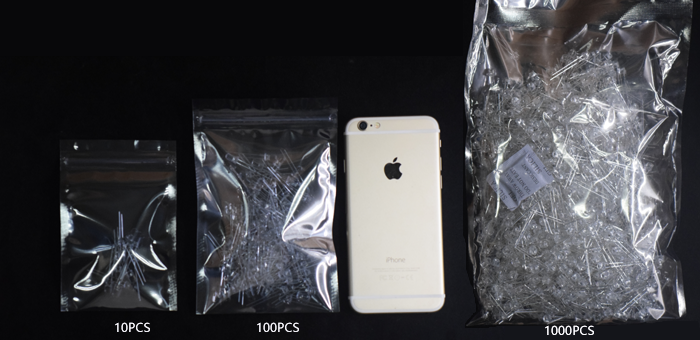 * Vi paketerar denna LED med 1000 st i en väska Normalt. Vi kan också paketera det som ditt krav.
- Ansökan -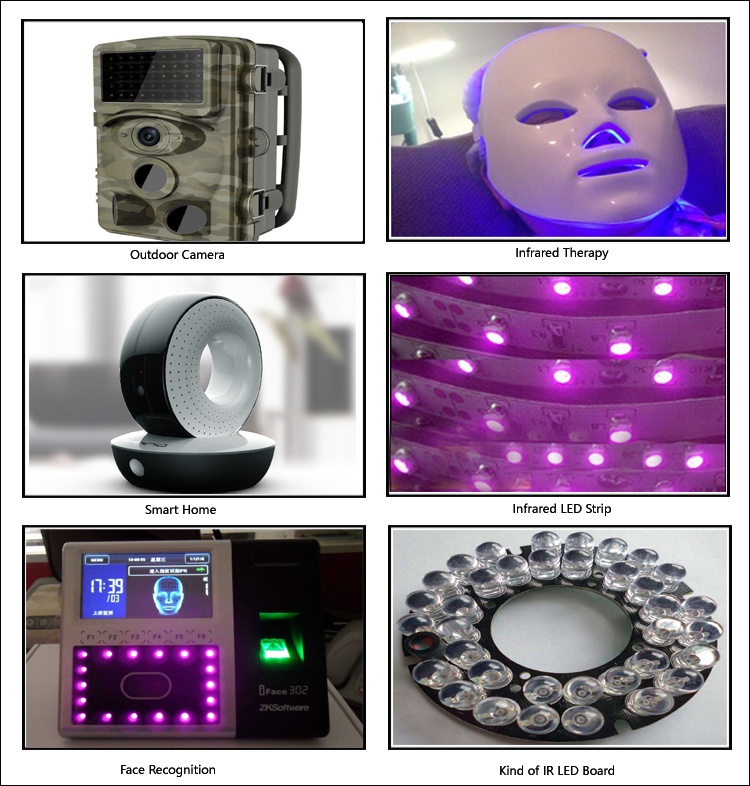 - Relaterad rektangel-LED -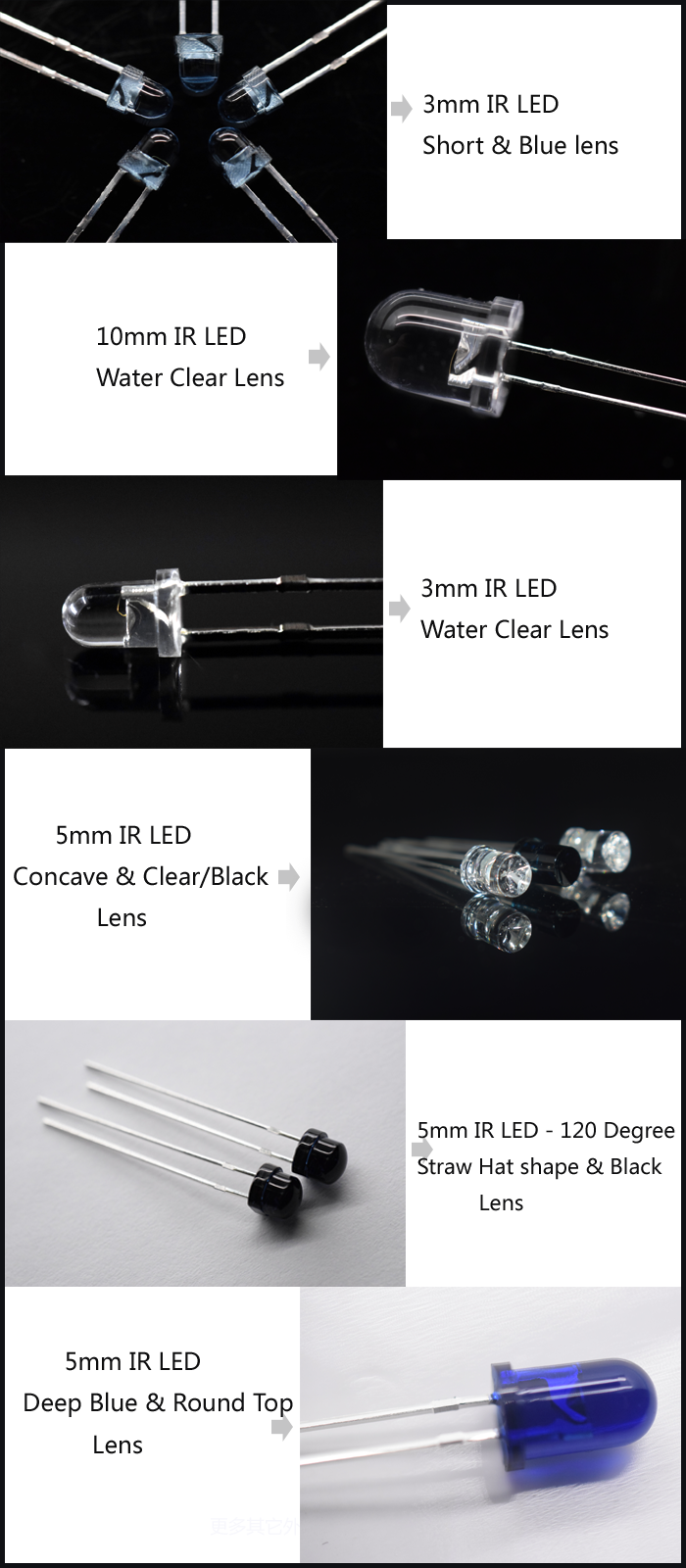 - Produktion -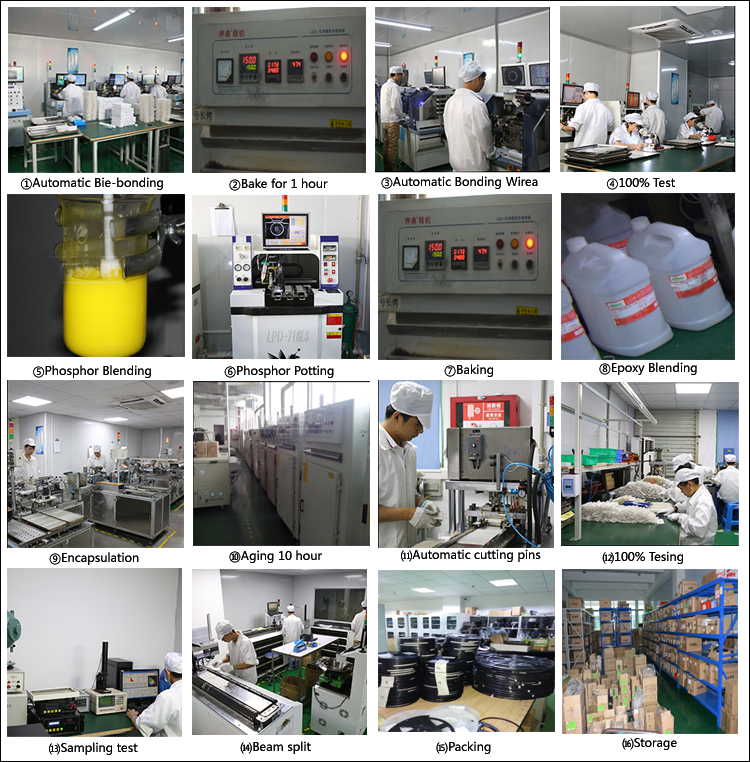 - Använda sig av -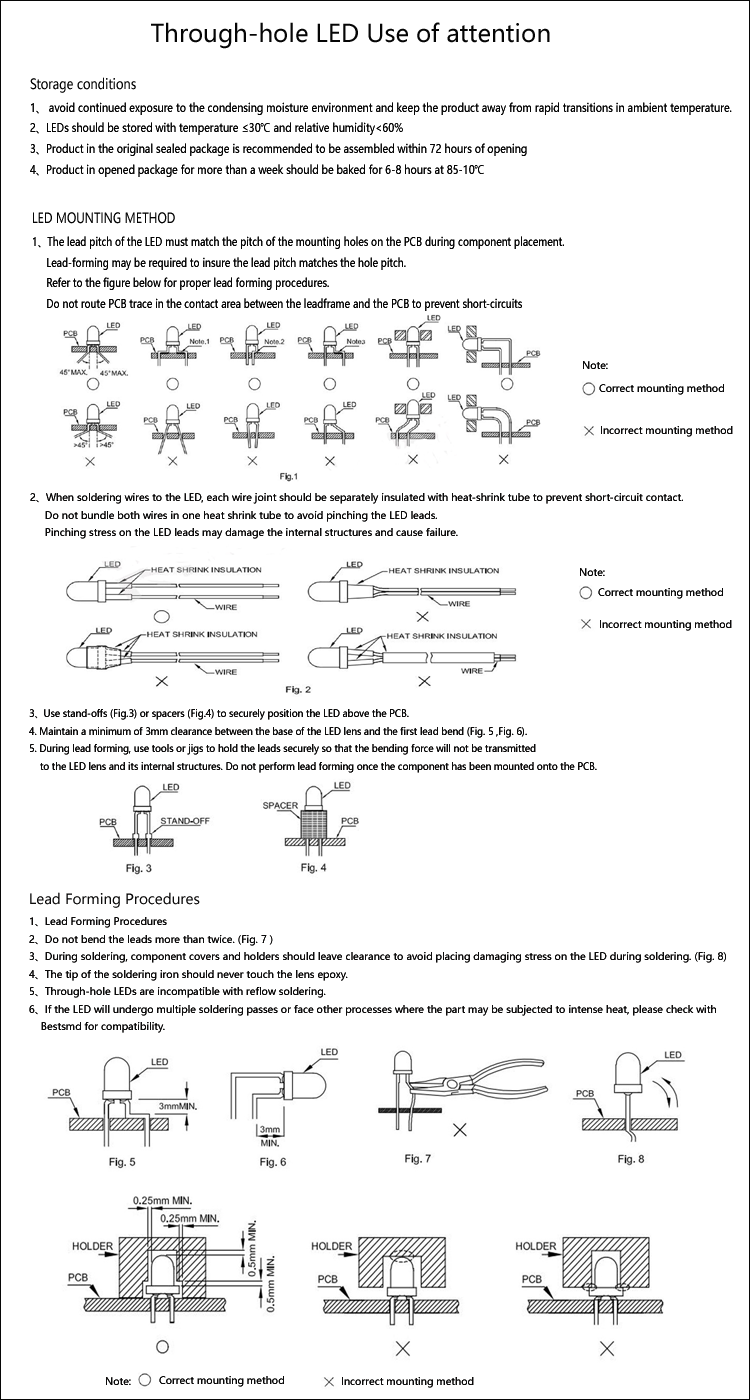 Produktkategorier : Fullvåglängdslampa > 810nm LED