- 940nm LED -
För en del applikationer kanske människor bara behöver ett rektangelstrålningsområde. Som vi vet kan LED-linsen ändra ljusresultatet för LED-chipet. Om vi ​​bara tänder upp ett litet LED-chip kommer belysningsplatsen att vara en rund cirkelform. När vi paketerar den med runda topp-genomgående hål LED, då belysning platsen kommer att vara mer koncentrerad men fortfarande ser ut som en ljus cirkel belysning plats. Om du behöver ändra belysningsplatsen är LED-linsens form en nyckelpunkt. Ljusplatsen kommer att ändras när den går genom linsen. Det är därför när vi paketerade denna LED med rektangel kommer den att ha en rektangelbelysning eller strålningsområde. Behöver du en rektangel 940nm genomgående hål LED för ditt projekt? Kontakta oss för mer information.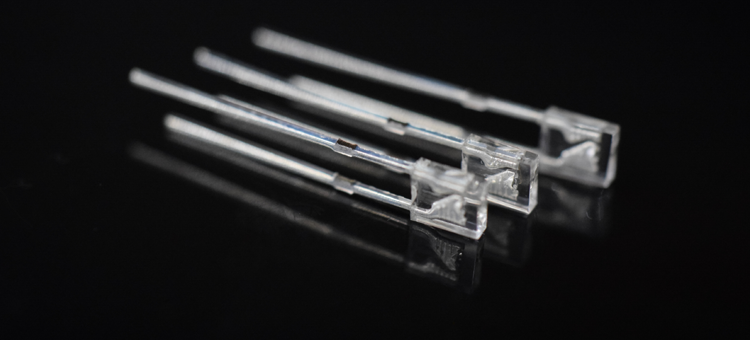 - Size: 1mm*3mm*1mm High

- Pin length:

- Color: 940nm LED

- Type: clear

- Chip brand:e Epistar




- Different color are available

- Different wavelength are available

- Warranty: 5 Years


- RoHS, REACH, EN62471


- Uniform light output

- Long life-solid state reliability

- Low Power consumption


-Anti UV epoxy resin package


-High temperature resistance
- Dimensionsparametrar -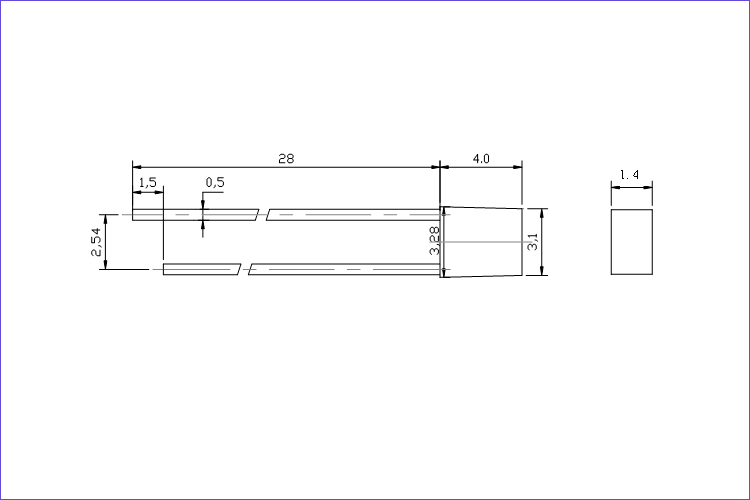 * 1. Alla dimensioner är i millimeter; 2. Toleransen är ± 0,20 mm om inte annat anges.
Dessa fodral finns också för Blue Through-hole LED, Red Through-hole LED, UV LED, IR LED, Amber LED, Yellow LED etc.

- Emitting Color -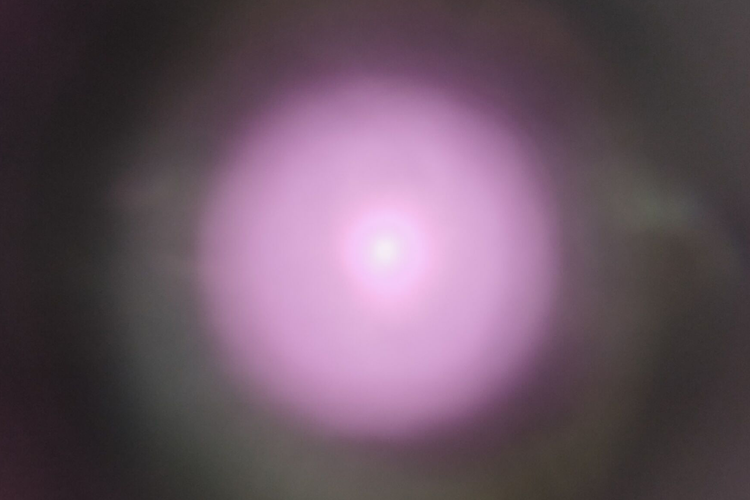 * Färgerna på fotot togs av kameran, ta faktiskt avgivande färg som standard.
- Elektriska parametrar -

rameter

Symbol

Rating

Power Dissipation

Pd

200mw

Pulse Forward Current

IFP

500mA

Forward Current

IF

100mA

Reverse Voltage

VR

5V

Junction Temperature

Tj

115°C

Operating Tempertature

Topr

-40 - +80°C

Storage Tempertature

Tstg

-40 - +100°C

Soldering Temperature

Tsol

260°C

Electro-Static-Discharge(HBM)

ESD

3000v

Warranty

Time

5Years

Antistatic bag

Piece

1000Bag

*Pulse Forward Current Condition:Duty 1% and Pulse Width=10us.

*Soldering Condition:Soldering condition must be completed with 3 seconds at 260°C
Parameter

Symbol

Min

Typ

Max

Unit

Test Condition

Radiant Intensity

Ee

3

7

mW/sr

IF=20mA

10

20

IF=50mA

18

30

IF=100mA

Viewing Angle

2q1/2

120

deg

IF=50mA

Peak Wavelength

λp

930

940

960

nm

IF=50mA

Spectral Bandwidth

Dl

50

nm

IF=50mA

Forward Voltage

VF

1.2

1.3

1.5

V

IF=20mA

1.3

1.4

1.7

IF=50mA

1.4

1.5

1.9

IF=100mA

Reverse Current

IR

5

uA

VR=5V

*Luminous Intensity is measured by ZWL600.

*2q1/2 is the off-axis angle at which the luminous intensity is half the axial luminous intensity.

*lD is derived from the CIE chromaticity diagram and represents the single wavelength which defines the color of the device.
- Golden Wire-anslutning -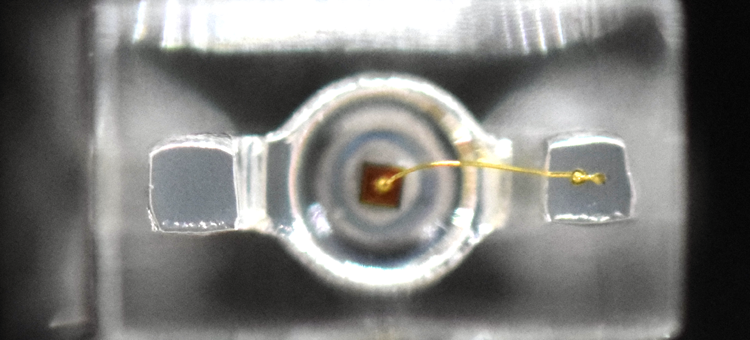 * För att behålla LED: s långa livslängd använder fabriken i BestLED hög ren guldtråd för kretsanslutning
- Förpackning -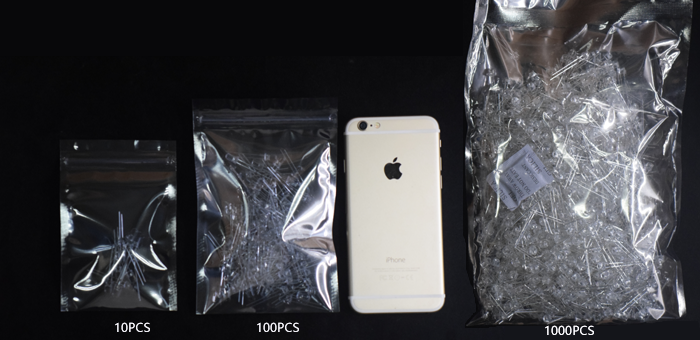 * Vi paketerar denna LED med 1000 st i en väska Normalt. Vi kan också paketera det som ditt krav.
- Ansökan -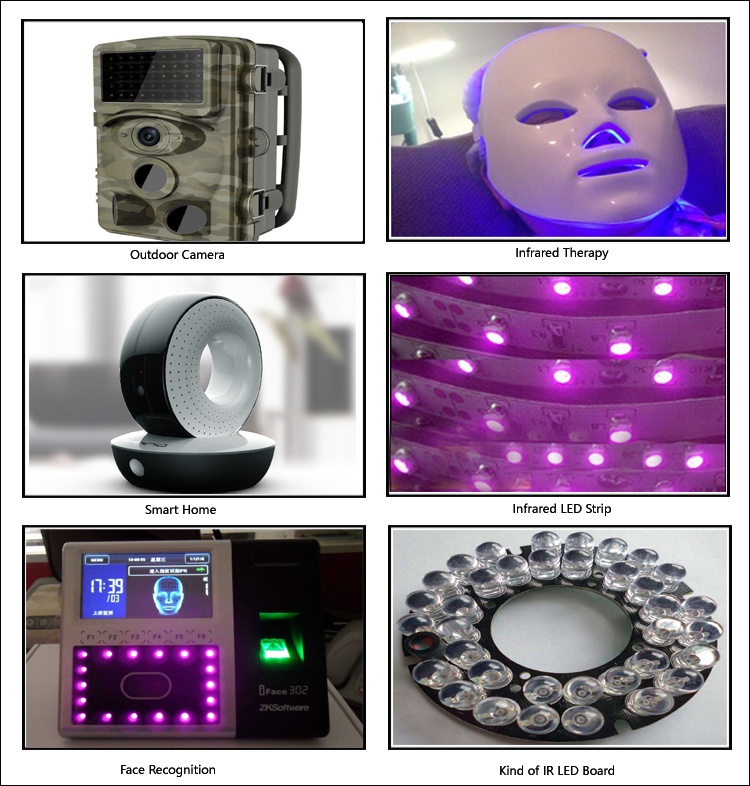 - Relaterad rektangel-LED -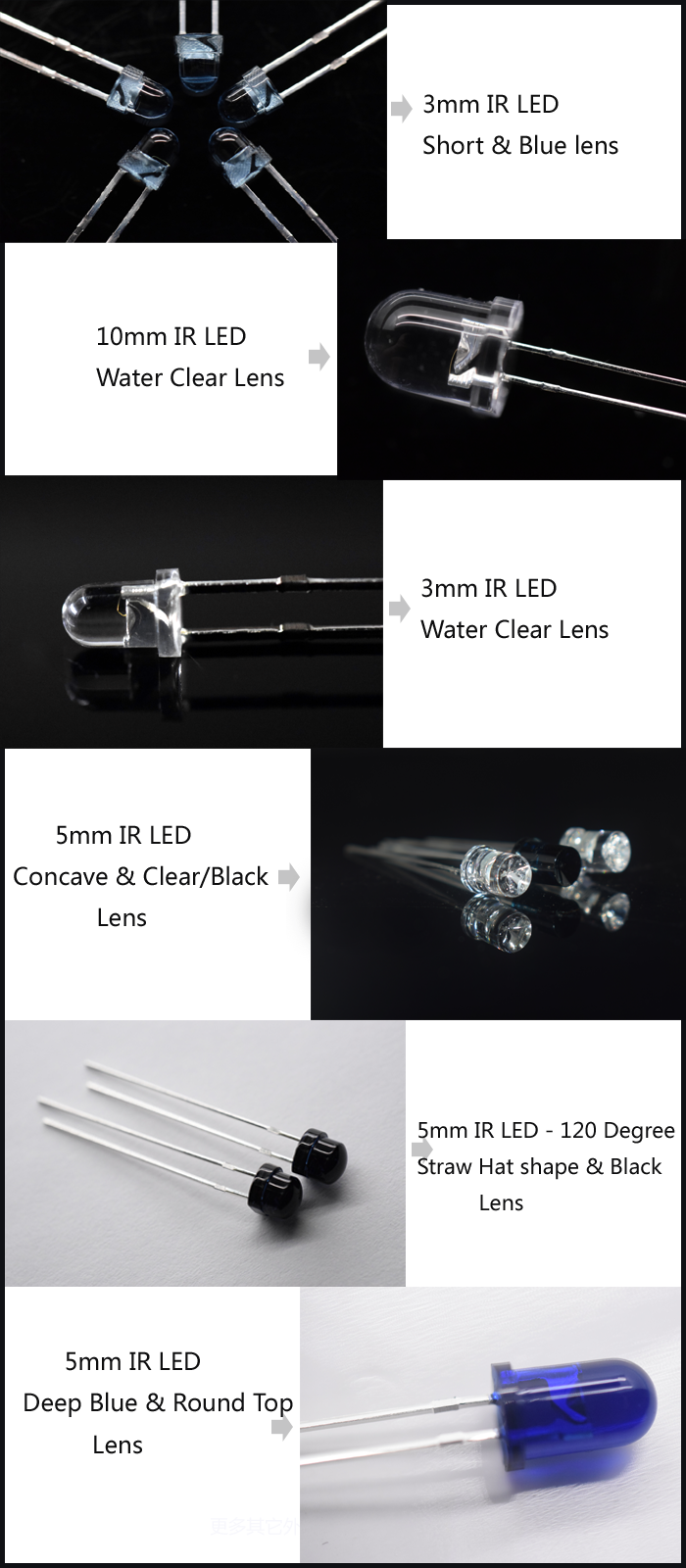 - Produktion -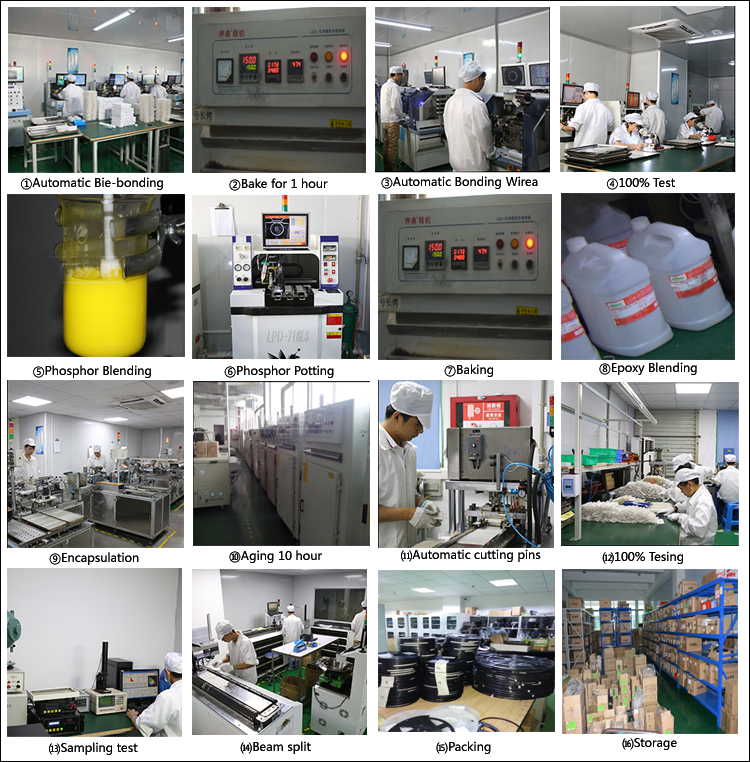 - Använda sig av -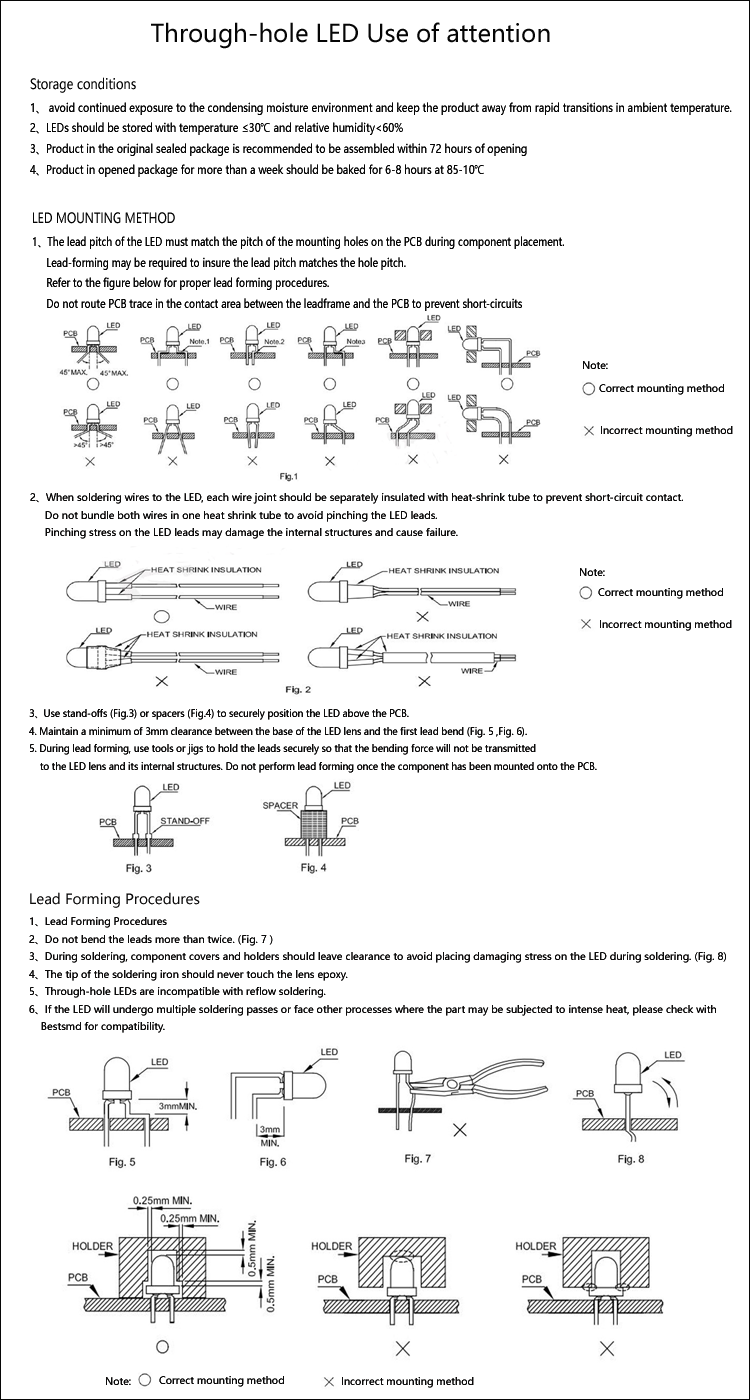 Produktkategorier : IR LED > 940nm IR-lampa med hål