- Rektangulär grön genomhållande LED-

6242LGC54D7L12
Denna 324WC förpackades med en klar lins och kan avge vit färg. Betraktningsvinkeln är 110 grader. I vårt liv används dessa vita rektangelfärgade vita lysdioder i vit LED-display, LED-display för leksaker, LED-svart ljus, LED-displayen på TV: ns undersida. Det finns två typer av LED-vit LED-display: varmvit LED-display och cool vit LED-display. Du kan helt utforma LED-skärmfärgen som du behöver. För LED-rektangelformen finns det också olika storlekar du kan välja: 1 * 3 * 4 mm rektangel-LED, 2 * 5 * 7 mm rektangel- LED, 2 * 5 * 5 mm rektangel- LED, 5 * 5 * 7 mm rektangel ect. Olika färger för rektangulära lysdioder som: 625nm röda rektangulära lysdioder, 590nm gula rektangulära lysdioder, 465nm blå rektangulära lysdioder, 520nm gröna rektangulära lysdioder, 608nm orange rektangulära lysdioder, 495nm cyan rektangulära lysdioder, 500nm traffice grön rektangulära lysdioder, 420nm lila rektangulära lysdioder, 570nm rektangulära lysdioder ect. Tvåfärgade rektangulära lysdioder , RGB rektangulära lysdioder, denna familj av lysdioder, från Kina, finns i genomgående hål rektangulära paket.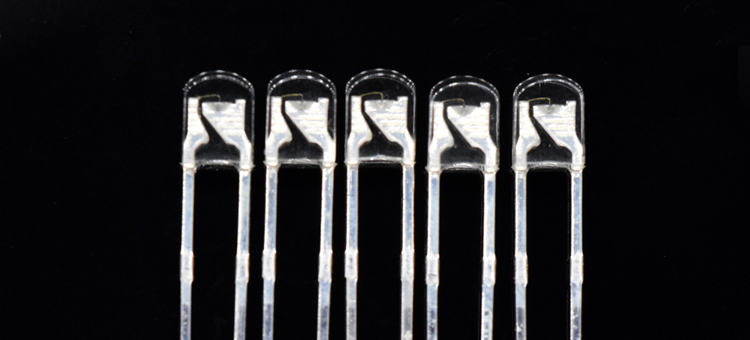 - Size: 2*3*4 mm

- Chip Number: 1chip

- Color: green

- Type: water clear

- Chip brand: Epistar

- Short Pin mark cathode

- Different color are available

- Different wavelength are available

- Warranty: 5 Years


- RoHS, REACH, EN62471


- Uniform light output

- Long life-solid state reliability

- Low Power consumption


-Anti UV epoxy resin package


-High temperature resistance
- Dimensionsparametrar -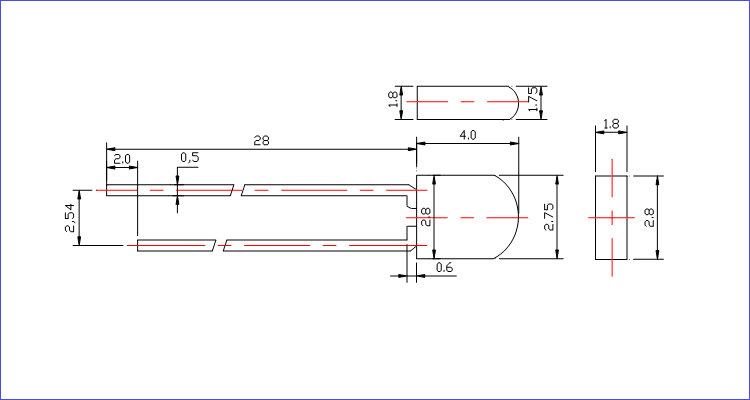 Detta genomgående hål LED-fodral finns också för IR LED, UV LED, Blue SMD LED, Red SMD LED, Amber LED ect.
- Emitting Color -
Vänta på uppgraderingen. Tack.
* Färgerna på fotot togs av kameran, ta faktiskt avgivande färg som standard.
- Elektriska parametrar -

Parameter

Symbol

Rating

Power Dissipation

Pd

105mw

Pulse Forward Current

IFP

100mA

Forward Current

IF

30mA

Reverse Voltage

VR

5V

Junction Temperature

Tj

115°C

Operating Tempertature

Topr

-40 - +80°C

Storage Tempertature

Tstg

-40 - +100°C

Soldering Temperature

Tsol

260°C

Electro-Static-Discharge(HBM)

ESD

1000v

Warranty

Time

5Years

Antistatic bag

Piece

1000Bag

*Pulse Forward Current Condition:Duty 1% and Pulse Width=10us.

*Soldering Condition:Soldering condition must be completed with 3 seconds at 260°C
Parameter

Symbol

Min

Typ

Max

Unit

Test Condition

Forward Voltage

VF

2.8

3.0

V

IF=20mA

3.0

3.2

3.2

3.4

Luminous Intensity

IV

10000

15000

mcd

IF=20mA

Peak Wavelength

λP

535

nm

IF=20mA

Dominant Wavelength

λd

535

538

545

nm

IF=20mA

Half Width

Dl

28

nm

IF=20mA

Viewing Half Angle

2q1/2

±60

deg

IF=20mA

Reverse Current

IR

5

uA

VR=5V

*Luminous Intensity is measured by ZWL600.

*2q1/2 is the off-axis angle at which the luminous intensity is half the axial luminous intensity.

*lD is derived from the CIE chromaticity diagram and represents the single wavelength which defines the color of the device.
- Golden Wire-anslutning -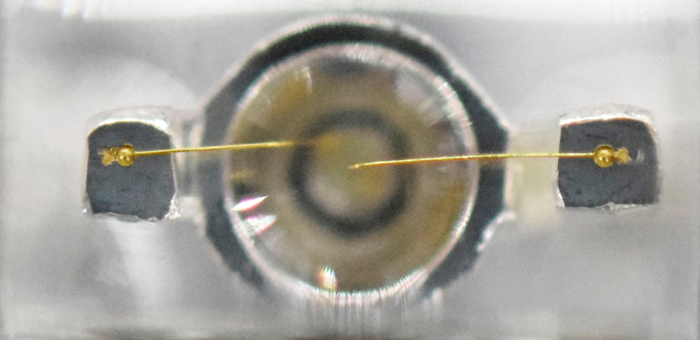 * För att behålla LED: s långa livslängd använder fabriken i BestLED hög ren guldtråd för kretsanslutning
- Förpackning -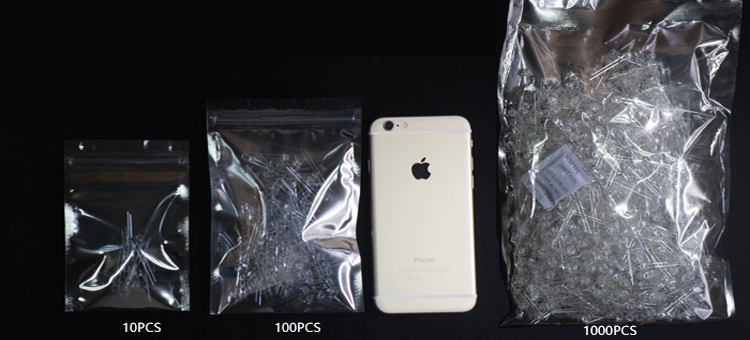 * Vi paketerar det med vakuumförpackning efter att ha tejpat det som en rulle
- Ansökan -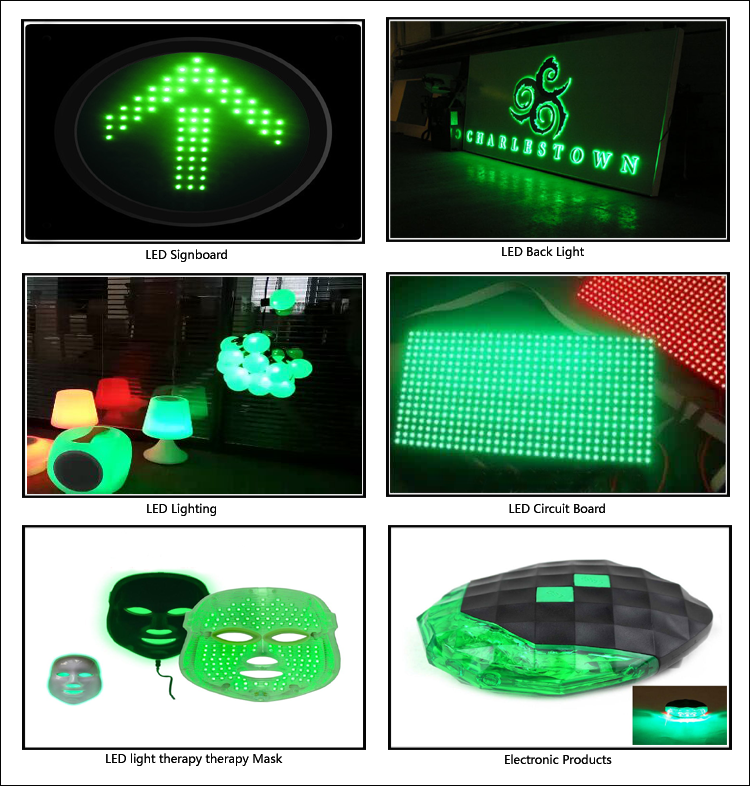 - Relaterad rektangel-LED -
- Produktion -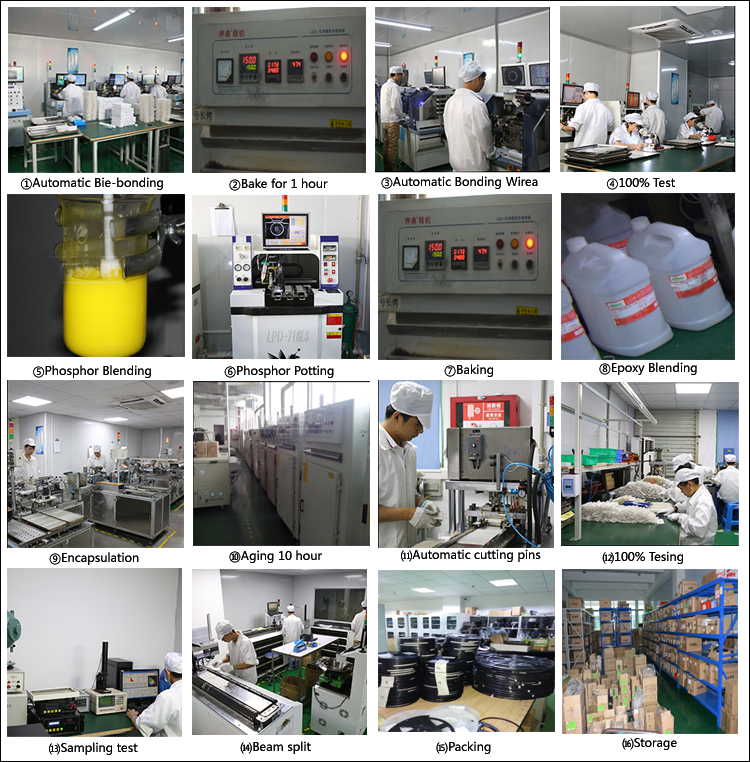 - Genomgående hål LED Använd uppmärksamhet -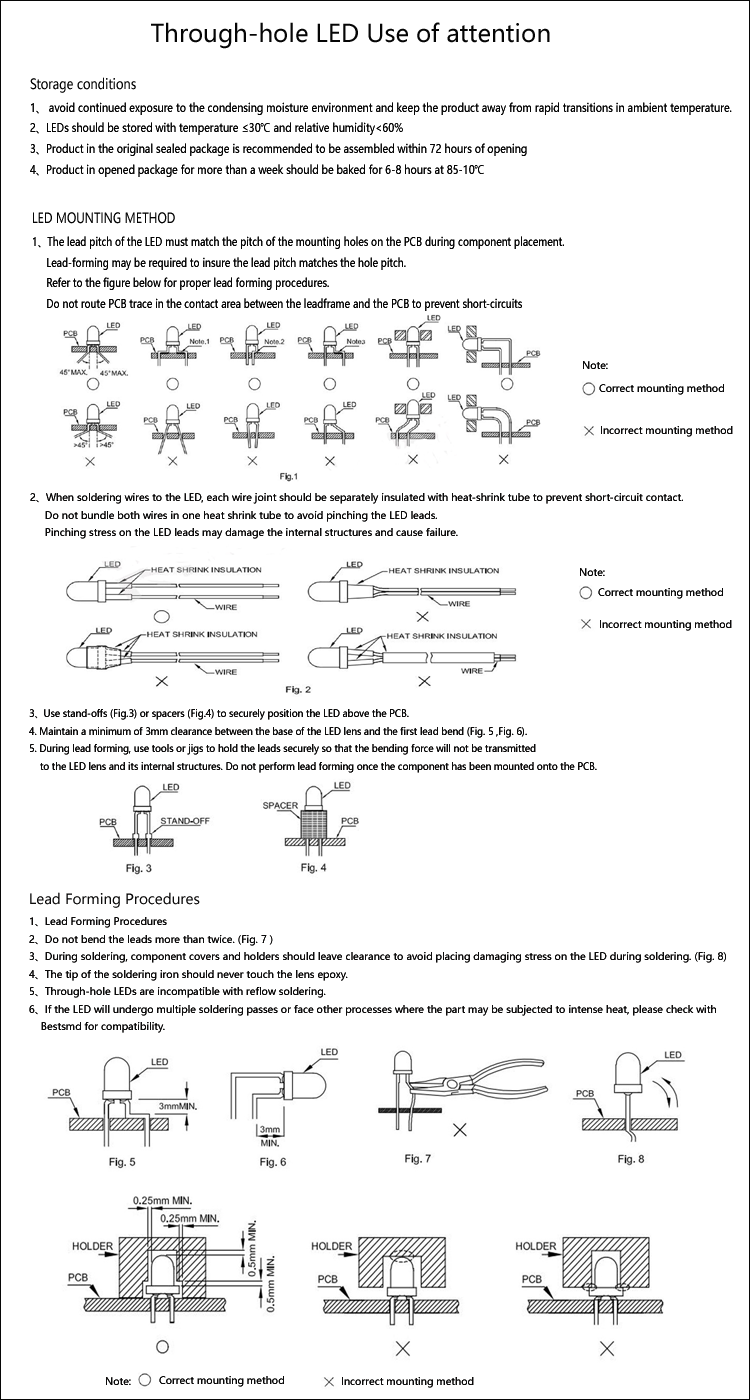 Produktkategorier : Grön genomgående LED-lampa > Rektangulär grön genom-hållampa